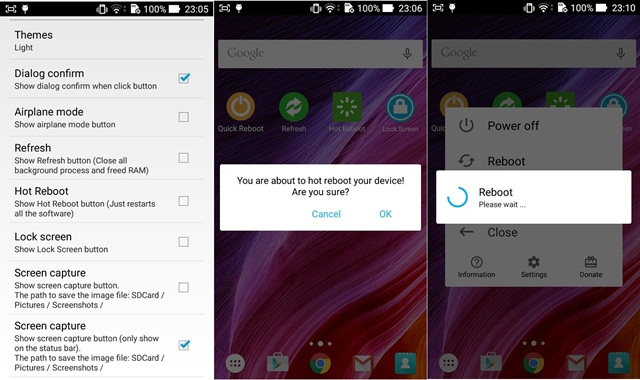 Android Reborn – How often you restart your Android? Android needs to be restarted to keep it smooth after you use it all day. However, you cannot push the power button too often because if it is broken you should bring it to the service center. Did you know that actually restarting Android can be done without power button?
How can you do that? Of course, it needs an app named Quick Reboot. For clearer steps, you should follow how to restart Android without power button below:
The first step how to reboot Android without power button is to download Quick Reboot app.
After the installation is success, you can open it now. Just tap on it and the app will run.
Once you open this app, it will ask you to allow to access root on your Smartphone. Just click "Allow".
Lastly, you will be offered with some options. They are "Reboot", "Power Off", and "Recovery".
Tap on "Reboot" because you want to restart your Android. If you choose "Power Off", it means you shut down your Android whereas "Recovery" means to enter the recovery mode.
After tapping "Reboot", your Android will restart soon. Just wait for the restarting process. It may take a few moments depending on your Smartphone. After your Android turns on again, now you can use it more smoothly.
That is all how to restart Smartphone without power button. It is easy, is not it? Even more, you can also shut down and apply recovery mode, too.
Must Read: