Android Reborn – One of the best features of Galaxy A5 is fingerprint security. So, it is important to know how to activate fingerprint on Samsung Galaxy A5 2017.  A fingerprint scanner becomes one of the most modern and safest securities for mobile phone. So, you have to thanks to Galaxy A5 that offers this safety feature. To use the fingerprint, you have to activate this feature first. What you need to do is the following steps: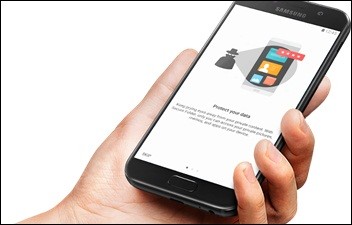 Activate Fingerprint on Samsung Galaxy A5 2017
Firstly, you have to go to apps or menu and then hit "Settings" option
After that, you must scroll down the screen, find "Lock screen and security" and hit this option
On Security menu, there will be some options, and you should tap "Fingerprints."
The next step is to hit "Add fingerprint."
Now, place one of your fingers on the Home button of your Galaxy A5
Then, wipe your finger until the process become 100%. You need to wipe it for several times
The next step how to activate fingerprint on 2017 Samsung Galaxy A5 is to enter a password in 6 characters with number and letter combination. Make sure that only you who know it and you also remember the password
After entering the password, please choose "Set" to set the password
The last step is to try the Fingerprint feature
You need to try whether it works or not. So, just go back to Home screen and then lock your device. Then, unlock the screen by pressing your finger on the Home button. Make sure that you press the finger that you set before because it will not work if you use the different finger. That is all how to activate fingerprint security on Samsung Galaxy A5 2017.
Must Read: